Fortinet FortiAP Cam-214B

IP-Based Video Security Cameras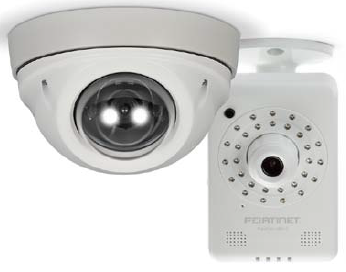 Fortinet FortiAP Cam-214B Series
Fortinet FortiAP Cam-214B
FortiAP Cam-214B-Region Code A
2 Megapixel Indoor Fixed Dome IP Camera with LED Night Vision, PIR, Audio, DIDO. Includes built-in wireless AP - 1 x GE RJ45 port, single radio (802.11 a/b/g/n, 2x2 MIMO), integrated mount, 802.3af PoE. Region Code A
#FCM-AP214B-A
List Price: $795.00
Our Price: $715.00
Click here to jump to more pricing!
Overview:
Complete Camera Coverage
Get complete visual coverage inside and out with FortiCameras. With options for indoor and outdoor, vandal-proof, weatherproof, low-light night vision and 2-way audio, there's a FortiCam that fits every environment. Compact and unobtrusive, all FortiCams deliver crisp, high-resolution HDTV-quality images to the FortiRecorder NVR, either continuously or triggered by a range of events, including motion and/or audio detection.
Easy to Set Up, License-Free
With FortiCameras, installation is a breeze. Both cameras support PoE, eliminating the need for AC power. Just connect them to the FortiRecorder network via a PoE switch and you're up and running. No software installation, no patches and no per-camera fees.
FortiCam-MB13
Discreet and compact, the FC-MB13 indoor camera fits anywhere. But don't let its size fool you — this camera can see in the dark and detect motion or audio. With 30 built-in infrared LED bulbs, it can capture events up to 50 feet away at night. With DI/DO for external alarm and sensor devices.
FortiCam-20A
Vandal-proof (IK10), weatherproof (IP67) and motion-detecting, the FCM-20A is a solid but subtle powerhouse that's great for securing your perimeter but still looks unobtrusive indoors.
The Power to See Everything: the Complete Video Security Solution
Combined with the FortiRecorder NVR, FortiCameras give you everything you need for complete facility video security.
Scheduled and manual recording
Motion detection and continuous recordings
Snapshot notifications and alerts
Web-based interface (no software installation required)
Camera live view and video playback
Event monitor with timeline
RADIS, LDAP, SNMP and remote data storage support for flexible network integration
Features:
| Features | Benefits |
| --- | --- |
| Continuous or event-based surveillance | Capture everything or capture selectively based on events including motion detection, sound detection or scheduled times. |
| Clear high-definition visuals, even in the dark | Your security footage won't be much use if you can't see what's going on. HDTV-quality and advanced low-light and infrared options ensure that you can see the details. |
| Auto-discovery by FortiRecorder NVRs | Set up is a snap: plug into FortiRecorder network and the rest is automatic. |
Specifications:
Model
FORTICAM-MB13 CAMERA
FORTICAM-20A CAMERA
Hardware Specifications
Format
Indoor, infrared night vision
Indoor/outdoor, vandal-proof, fixed dome
Sensor Type
1/2.5" CMOS
1/2.5" CMOS
Iris
F1.6
F1.6
Focal Length
f = 4 mm
f = 4 mm
View Angle
H:50° V:40° D:62°
H:40° V:32° D:52°
Pan / Tilt / Rotation
-
+-35° / 0–90° / +-180°
IRLED / IRC
15m / yes
– / –
Streaming Protocol
RTSP / HTTPS
RTSP / HTTPS
Video Compression
H.264
H.264
Image Resolution
1280 x 1024 at 30 frames per second
640 x 512 at 30 frames per second
320 x 256 at 30 frames per second
1280 x 1024 at 30 frames per second
640 x 512 at 30 frames per second
320 x 256 at 30 frames per second
Audio
Built-in mic and speaker
Dimensions
Height x Width x Length (in)
4.9 x 6.4 x 6.4
2.1 x 4.3 x 4.3
Height x Width x Length (mm)
125 x 163 x 163
53.3 x 109 x 109
Weight
1.04 lbs (470 g)
1.02 lbs (460 g)
Environment
Power Required
PoE (802.3af)
PoE (802.3af)
Power Consumption (AVG)
6.4 watts
5.5 watts
Operating Temperature
32–122°F (0–50°C)
-4–122°F (-20–50°C)
Humidity
10–80% non-condensing
10–80% non-condensing
Compliance
FCC Class B, CE Mark
FCC Class B, CE Mark, Vandal-proof (IK10), weatherproof (IP67)
Pricing Notes:
Pricing and product availability subject to change without notice.
Fortinet FortiAP Cam-214B Series
Fortinet FortiAP Cam-214B
FortiAP Cam-214B-Region Code A
2 Megapixel Indoor Fixed Dome IP Camera with LED Night Vision, PIR, Audio, DIDO. Includes built-in wireless AP - 1 x GE RJ45 port, single radio (802.11 a/b/g/n, 2x2 MIMO), integrated mount, 802.3af PoE. Region Code A
#FCM-AP214B-A
List Price: $795.00
Our Price: $715.00
FortiAP Cam-214B FortiCare 8x5
*8x5 Support, Hardware Replacement, Firmware and General Upgrades
FortiAP Cam-214B 8x5 FortiCare, 1-Year
#FC-10-P0214-311-02-12
Our Price: $56.00
FortiAP Cam-214B 8x5 FortiCare, 3-Year
#FC-10-P0214-311-02-36
Our Price: $147.00
FortiAP Cam-214B FortiCare 24x7
*24x7 Support, Advanced Hardware Replacement (NBD), Firmware and General Upgrades
FortiAP Cam-214B 24x7 FortiCare, 1 Year
#FC-10-P0214-247-02-12
Our Price: $104.00
FortiAP Cam-214B 24x7 FortiCare, 3 Year
#FC-10-P0214-247-02-36
Our Price: $273.00